Role of the Board
The structure of the Valley School Board of Trustees is as follows:
Five Parent Elected Trustees (including one Board Chairperson)
The Principal
One Staff Elected Trustee
The Valley School Board of Trustees is empowered by the Education Act to ensure all Valley kids achieve to their full potential, develop key life skills, stay safe, and retain their individual cultural identities as New Zealanders. To do the above, the Board is responsible for governance oversight of the school's operational areas via Board policy and audits. The Board also sets the school's Charter and Strategic Plan in consultation with staff and the school community, ensuring the Valley school community has ownership of its school and its direction.
The Board as an entity does not get involved in the daily running of the school, which is led by the Principal and the senior leadership team.
Parents are welcome to attend Board of Trustee meetings as observers. Meetings are held in the school staff room approximately monthly. Check with the school or the school webpage for dates of upcoming meetings (note certain meeting protocols will be in place).
Valley School Board of Trustees 2016-2019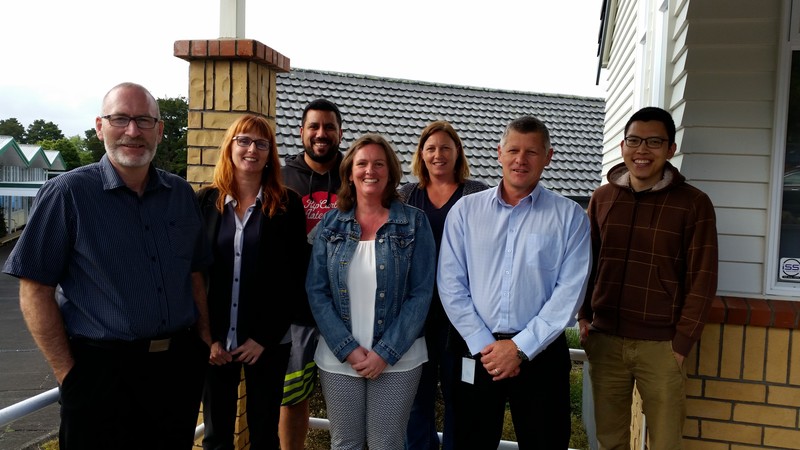 Jason Wong, B.Eng.(Mech), Ph.D.(Mech)

I am currently serving as Chair of the Board of Trustees. First and foremost I am a dad to two girls. My eldest is in Year 1 at Valley School and my youngest is age two. I am honoured to be elected to the board and am in my first triennial term as a trustee. I am a professional mechanical engineer by training with areas of interest in aerospace design and certification.
I am excited to be leading a dedicated group of parents and staff in this Board to better serve Valley students and the school community.
Sharyn De Jonge, Dip Tchg, B.Ed, Grad. Dip. Ed. (Educational Management), M.Ed
I am Deputy Principal at Valley School and the elected staff representative on the Board of Trustees. I have over 20 years experience teaching across all levels of the Primary School sector. I also had a brief stint at Waikato University lecturing in Language and Literacy education, and have continued this association with an annual lecture to third year students.
I am a mum to two daughters aged 17 and 10 years.
I am thrilled to be on staff at Valley School and to contribute further as a Board member.
Roger Goulstone- Principal
My first year teaching was 1988. Prior to teaching I had worked in the family horticulture business, driven a truck, been a security guard and for 8 years was a Territorial soldier. I have also been a volunteer fire fighter.
My teaching career started in South Auckland schools (I was born and raised in Mangere) before leading a smaller rural school and then arriving at Valley School.
I have 4 children (all ex- Valley KIDS) and 3 grandchildren.
I am an 'old boy' of Mangere College. Along the way I completed a Diploma in Teaching, a Bachelor of Education and a Masters in Educational Leadership. For me education is a life long journey where learning never stops.
I have also been on committees for the Hunua Rural Fire Force, Pukekohe Performing Arts, Pukekohe Football club and Mercer Rowing Club. In 2017 I was sworn in as a Justice of the Peace.

I consider it a privilege to be Principal of Valley School and work with great kids, a great staff and a wonderful community everyday.
Rachel Eshuis
My name is Rachel Eshuis and we currently have three children attending Valley School in years six, three and one, our oldest is currently one of the school house captains and all are involved in the many opportunities provided by the school. Since moving to the school at the beginning of 2015 from overseas it has been fantastic to see how much they have grown and thrived at Valley School. I come from a business and finance background. I have worked in corporate business for many years and have a degree in Degree in Business (Accounting) and am a member of the NZ Institute of Chartered Accountants.
Shane Johnson
My name is Shane Johnson, I'm a Regional Manager for BNZ but most importantly my wife and I are proud parents of three Valley school kids.
We moved to Pukekohe mid way through last year from Mount Maunganui and have been impressed with the schools culture from the moment we walked our eldest daughter in for her first day to now and I am equally proud to represent the parents and children on the Board of Trustees.
There are challenges ahead with the growth of Pukekohe in the coming years but it's great to look around the meetings and see we have a committed and focused group of parent and teacher representatives.
PJ Visser
By way of introduction, my wife's name is Colleen and I'm PJ. We are blessed with three wonderful children. Our boys are in year 1 and 4 respectively whilst our youngest is now seven months old. Our children are the heart and soul of our family. I attempt to be involved as much as possible with every aspect of their development, from the class rooms to the sports fields.
I am a firm believer in both the mental and physical development of children combined with good family values, respect, discipline, trust and direction. This is the balance that I believe Valley School inspires in our children and I am privileged to contribute my part. I will promote the same values so that Valley School and our community can be proud of our children. I believe these values are important during every adolescent's early development and should be encouraged and rewarded as frequently as possible.
In my view being a member of the Board is first and foremost to serve the best interest of our children and their development, but also representing each family's interest in the development of our children, our school and our community. The values of the Valley School family stretches further than the boundaries of our school into our community. These are the steppingstones that develop our children's future. We as parents should have comfort in the knowledge that the people in whom we entrust with our children's development will have everyone's best interest at heart. I encourage family engagement and activity to strengthen the family bonds that will transpire into our school values.
I am from a family of teachers and my passion for the development of children is deep-rooted. I originally studied physical training with history and geography as majors before joining the police. The police strengthened my views on discipline and respect whilst entrusting a duty to serve the wellbeing of the community. I completed a Diploma in Police Administration and a Bachelors of Laws (LLB) and am currently employed at a Crown entity.
I have the wellbeing of all the children, parents and families at heart and believe that being a parent is the biggest blessing and privilege bestowed on all of us.
Jann Hurley
I have previously served on the board for two terms when my two older children were at Valley School. They are now at university. We have another two children in our family at the school in year 4 and soon to be year 1, so I've got another six years association with the school to come. I also coach a netball team based at the school and have done for a number of years. I am a former Valley School pupil, attending the school when rooms 5, 6 and 7 came in as temporary class rooms.
I run my own business in Pukekohe and am familiar with monitoring financial statements; delegating those tasks best suited to others and taking responsibility for getting things done that are in my area of expertise. I have a particular interest in the property aspects of the board's role. I am a registered architect and can bring to the board my knowledge and experience in dealing with construction contracts and the Ministry of Education in managing projects.