It is not often that we say this about one of our Valley Kids...
Ben Lowe - World Champion!!!!!
Ben is a member of 'Swagganauts' a dance crew who competed recently at the World Hip Hop Championship in Arizona, USA.....and yes ...they won Gold and are now World Champions!!!!!
Huge Congratulations from Valley School
Pukekohe Intermediate Open Evening for Year 6 Valley students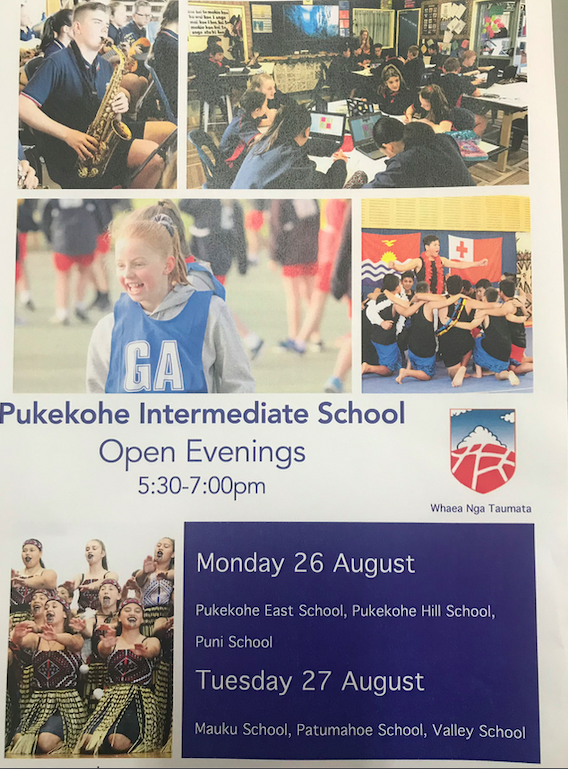 Valley School Cross Country / Fun-Run
Thank you to all the students and families for supporting our Valley School Fun-Run.
There are two weeks to go until our School Fun-Run. Hopefully students have been using their student profile pages at schoolfundraising.co.nz to get the most out of the fundraiser.
Currently we have raised around $10,000, so if you are yet to create a page, we hope you will. Remember, the money raised will be going towards new sports equipment and programmes for our Valley students.
We've set our money due back date as 23 August, so please make sure you've returned all your money to to your classroom teacher by then.
HOW TO ORDER YOUR PRIZE:
Between 23 August and 30 August simply visit schoolfundraising.co.nz and create / log into your Profile Page. Then click on the 'ORDER PRIZES' button and follow the prompts. We have been advised from the School Fun-Run team that the RC boats are a faulty product and to choose a different prize.
If you have any questions, please contact the School Fun-Run team on 0800 377 170 and they will gladly assist!
Our School Fun-Run Event Programme starts from around 10.30am. Please come along to support your runners! We ask that you do not stand in the middle of the field or on the footpath by the junior block as our runners will be using these areas.
Event Distance
1. Year 6 Girls 3 full laps
2. Year 6 Boys 3 full laps
3. Year 1 Girls 1 shortened lap }
4. Year 1 Boys 1 shortened lap } In front of Library
5. Year 2 Girls 1 shortened lap }
6. Year 2 Boys 1 shortened lap }
7. Year 3 Girls 1 full lap
8. Year 3 Boys 1 full lap
9. Year 4 Girls 2 full laps
10. Year 4 Boys 2 full laps
11. Year 5 Girls 2 full laps All laps include 1 lap of field at the end
12. Year 5 Boys 2 full laps
Term Dates 2019
TERM 2
Monday 29 April Term 2 starts
Friday 5 July Term 2 ends
TERM 3
Monday 22 July Term 3 starts
Friday 27 September Term 3 ends
TERM 4
Monday 14 October Term 4 starts
Friday 20 December Term 4 ends, 12:30 finish
Bully Free Resource
Click on the link below to go to a free site provided by Bully Free New Zealand with lots of information and a wonderful story about Oat the Goat you can share with your children.

Sunshine On line
This is a free website for Valley School students that supports children's learning in literacy and maths.
You can log on by clicking this link Sunshine
For password and username enter: valley1540

Reading Writing and Mathematics
Click on the Curriculum link below to take you to our curriculum section where you will find information on Reading and Writing Achievement Expectations for each year level.




Kelly Club Before and After
School Care is at


Valley School

Click on the Kelly Club section in our menu to find out everything you need to know!








now what learning is
Valley kids show "courage" when it comes to learning. Students know how to be prepared for learning, what tools they need and the right attitude to bring to all learning situations.
nclude everyone
Valley kids show respect for themselves and each other. They have a strong sense of "honour" and do what is morally right. They are the most important part of the Valley School community.
iscover their individuality
Valley kids are "loyal". They can be relied upon to participate and contribute in all learning situations. They are curious about the world and willing to take risks with their learning.
trive for success
Valley kids always show a 'can-do' attitude. They set learning goals and strive to achieve them. They show "endurance" in all they do by demonstrating stamina and determination.
USERS OF SCHOOL FACILITIES AND PLAYGROUND OUTSIDE OF SCHOOL HOURS DO SO AT THEIR OWN RISK.


VALLEY SCHOOL IS SMOKE FREE AT ALL TIMES